In AASI Swimming there is room for every level of experience - Everything from the newly hatched waterdog to the old, experienced swimmer. At training, you are your own coach - Meaning that there is no trainer on the poolside, no mandatory training, and no training sessions where you have to show up. At AASI Swiming you create your own program and decide when you want to come and train in the water. Besides swimming, AASI Swimming also offers team-based sports such as underwater rugby. These are described below.
AASI Swimming is driven by volunteers who are always ready to give a helping hand, a tip, or inspiration to a program when needed. The volunteers handle everything from administrative to practical work in the club. I.e. the chairperson, cashier, and lifeguards/openers are all volunteers, who are enthusiastic about the club and the fellowship that comes with it. If you are interested in becoming a part of the Swimcrew, send an e-mail to svomningformand@aasisport.dk and hear more about how you can become a part of the crew.
AASI Swimming is more than just a sport. We strive to create a social network amongst our members by arranging theme-days, social events, and by during volunteer work for and in the club.
AASI Swimming can be found in Østre Allé Svømmesal: Samsøgade 45, 9000 Aalborg.
Most often asked questions and answers as well as terms & conditions, can be found here on FAQ and Terms&Conditions.
In addition, we recommend that you join our Facebook page where you'll receive all the necessary information from the Swimcrew about cancellations, events, registration posts, etc.
Underwater rugby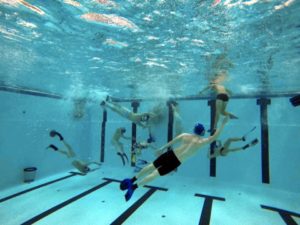 Underwater rugby is played in the deep end of the pool where a goal is placed on the bottom at each side of the pool. The players are equipped with a snorkel, a scuba mask, and flippers and are divided into two teams who have to fight for a salt water-filled ball and get it into the goal. Underwater rugby is played in every dimension (Up/down, back/forth and, from side to side). The game requires technique and tactics but also strength and physical fitness.
The teams consist of a mix of newbies and experienced players of both sexes. All levels are welcome to underwater rugby - meaning it does not matter if you are an experienced swimmer/diver or not. There is room for everybody on the team. Besides, it does not take long to get used to the snorkel!
Waterpolo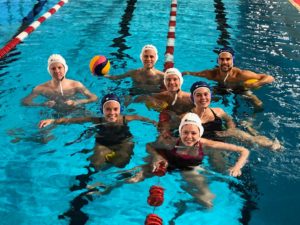 Water polo is played in the deep end of the pool where a goal is placed on either side of the pool. A team consists of six players and a goalkeeper. Every player wears a hat - thus making it is easier to recognize a team member from an opponent. When the game starts the teams have to fight for the ball and score the most goals.
Waterpolo training lasts two hours and consists of a warm-up, physical fitness- as well as technical training and at last, there be will be a short game between two teams. The training is lead by a volunteer and the teams consist of newbies and experienced players of both sexes. Everybody is welcome to join in on the training - there is room for everybody!
Who is AASI Swimcrew?
AASI Swimcrew is the team behind AASI Swimming. They take care of running the club, volunteer work regarding the club, and arranging all of the social events.
| | |
| --- | --- |
|  Position?  |  Who? |
|  Chairman |  Mads |
|  Treasurer |  Philip |
|  Openers/Lifeguard | Aleksandar, Katrine L, Lasse, Anna, Laurits, Emil, Line, Magnus, Thea, Christian W & Katrine R. |
If you are interested in becoming a part of the crew then contact us on svomningformand@aasisport.dk.
Pool lifeguard judge available
In addition, we also offer pool lifeguard tests from our own judge, Magnus Lerche.
For members, the test can be taken during the training time in Østre Allé swimming pool. Through agreement, the test can also be taken in other swimming pools in Aalborg and the surrounding area. Non-members as well as organizations also have the opportunity to take the test - contact Magnus for information about this.
The certificate costs DKK 100 in fee to the Danish Swimming Federation, in addition, the club charges a small maintenance fee for equipment, while other expenses will occur depending on the agreement.
For further information, please contact the chairman or Magnus on 25 56 24 23 or on Magnus_lerche@hotmail.com.
Or follow the link below:
https://www.svoem.org/Discipliner/Livredning/Vandsikkerhed/Proever/Bassin-Livredderproeven/Indhold-i-Bassin-Livredderproeven/
Sponsor and Discount Agreements: Watery, Sportmaster, Beer & Food Cards. 
Since we are a non-profit company, we are always looking for a good sponsor and discount deals. In addition, we also do volunteer work for other purposes to earn a profit for our club fund.
Currently we have appointments at Watery and Sportmaster.
Watery
14% on all Watery products (Except paddleboards, though).
9% on all not already discounted products.
1% on all already discounted products (Except paddleboards).
https://www.watery.dk/
Sportmaster
Sponsor agreement with Sportmaster, where we get a 25% discount.
Does not apply to electronics and selected items. The discount is deducted from the indicative. price.
https://sportmaster.dk/
We hand out our discount codes to our members after payment has gone through.
Price & Enrollment & The Waiting list
Click on the https://docs.google.com/forms/d/e/1FAIpQLScT8VyVt2clF9EXCnuFgi-MIEDmlo7PMo2N12iQU7_iwRJu_g/viewform?usp=pp_url to enroll on the team and fill in the form. Your enrollment is first valid when 450 DKK has been transferred to our account - the account and reg. no. is placed at the top of the sign-up sheet. When the club has confirmed your transfer then you will receive a confirmation by mail. Please note that it can take a few days for you to get the confirmation. In the case where we have not received your payment, we will write to you as well.
*By sending the Sign-up Sheet, you accept that AASI Svømning receives and stores the entered information from the sheet. This information is used to be able to contact you, apply for grants at Aalborg Kommune and give the swim club an impression of the generel composition of its members. The information from the enrollment is deleted no later than a year after the season end. 
Swimming caps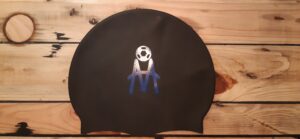 For our members, we offer shower caps with our own brand in the color black and blue. They cost DKK 25 each. Ask the lifeguard for them.
Training Schedule & Season start
Season 2022/0231 starts monday the 05/09/2022 and the last training is on thursday the 29/06/2023. The training schedule is as follows:
| | | | |
| --- | --- | --- | --- |
| Weekday:  | Time: | Opener/lifeguard: | Sport:  |
|  Monday |  20.15- 22.00 |  Katrine L. & Emil |  Underwater rugby |
|  Tuesday |  21.00-22.30 |  Mads |  Waterpolo & Swimming |
|  Wednesday |  21.30 - 22.30 |  Aleksandar |  Swimming |
|  Thursday |  21.30 - 22.30 |  Magnus |  Swimming |
|  Sunday |  15.00-16.00 |  Mads & Magnus |  Swimming |
On Tuesdays, we have the opportunity to offer water polo training, as long as there are enough players. We divide the hall into 2 parts, where we offer both swimming and water polo. But at 10 p.m., the entire water polo team will have to use the hall.
The opener will arrive 5-10 minutes before the concerned training time. This gives the opener and the members time to change and be ready to go into the pool at the scheduled training time. NB. Members and the opener MUST have left the pool before 23.00, therefore all swimmers must leave the pool 30 minutes before closing. Additionally, may members NOT GO INTO THE WATER without the opener is present. 
Cancellations & holidays
Østre Allé Svømmesal follows the holidays of the public schools. Thus the pool will be closed and training is canceled during these periods. To give you an overview of which day the pool will be closed, these are listed below:
Autumn break: 15. October 2022 - 23. October 2022
Christmas break: 22. December 2022 - 2. January 2023
Winter break: 18. February 2023 - 26. February 2023
Easter holiday: 1. April 2023 - 10. April 2023
General Prayer Day holiday: 5. May 2023 - 7. May 2023
Ascension Day-holiday: 18. May 2023 - 21. May 2023
Whitsun holiday: 27. June 2023 - 29. June 2023
Constitution Day: 5. June 2023 (monday)
Summer vacation: 23. June 2023 (Sunday)
Cancellations and holidays will be announced on our Facebook page.